Jul 22, 2023 10:47 PM Central
Teresa Wagstaff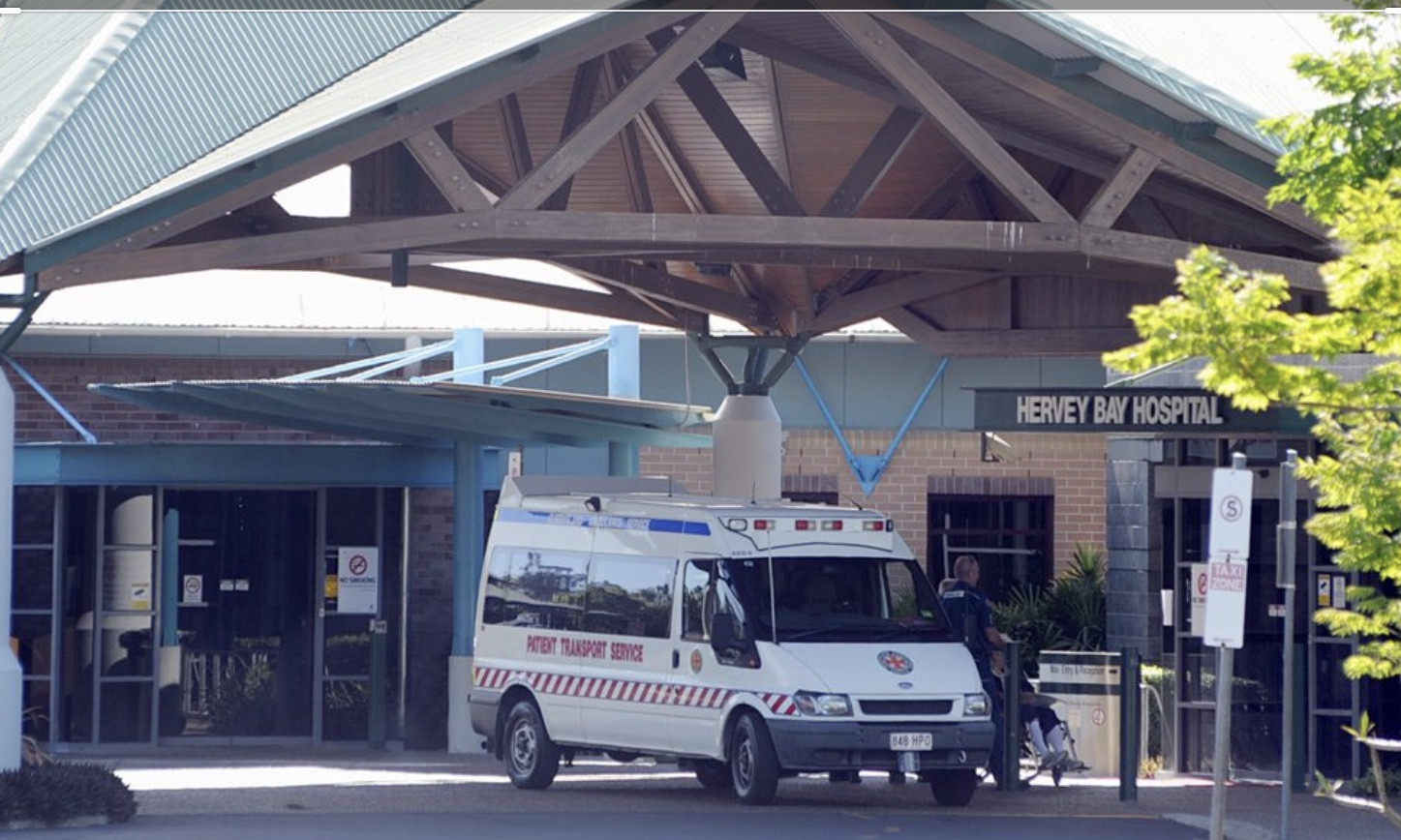 It's 2 December 2019 and I was only discharged from hospital a few days ago and I thought I was going extremely well and getting better really quickly but now I feel crushed and alarm bells are ringing!!
I'd been home again in my apartment across from the ocean after major surgery and my health had been continuing to improve, I had once again cut down on my prescription medications and was hardly taking or needing painkillers. In my mind I thought the improvement was incredible and I was ready to soar once again.
Walking around the apartment again I was so happy as I felt I was healing fast. My dear friends were back, some were sharing lovely dinners on my little balcony while looking at the moon and stars each evening.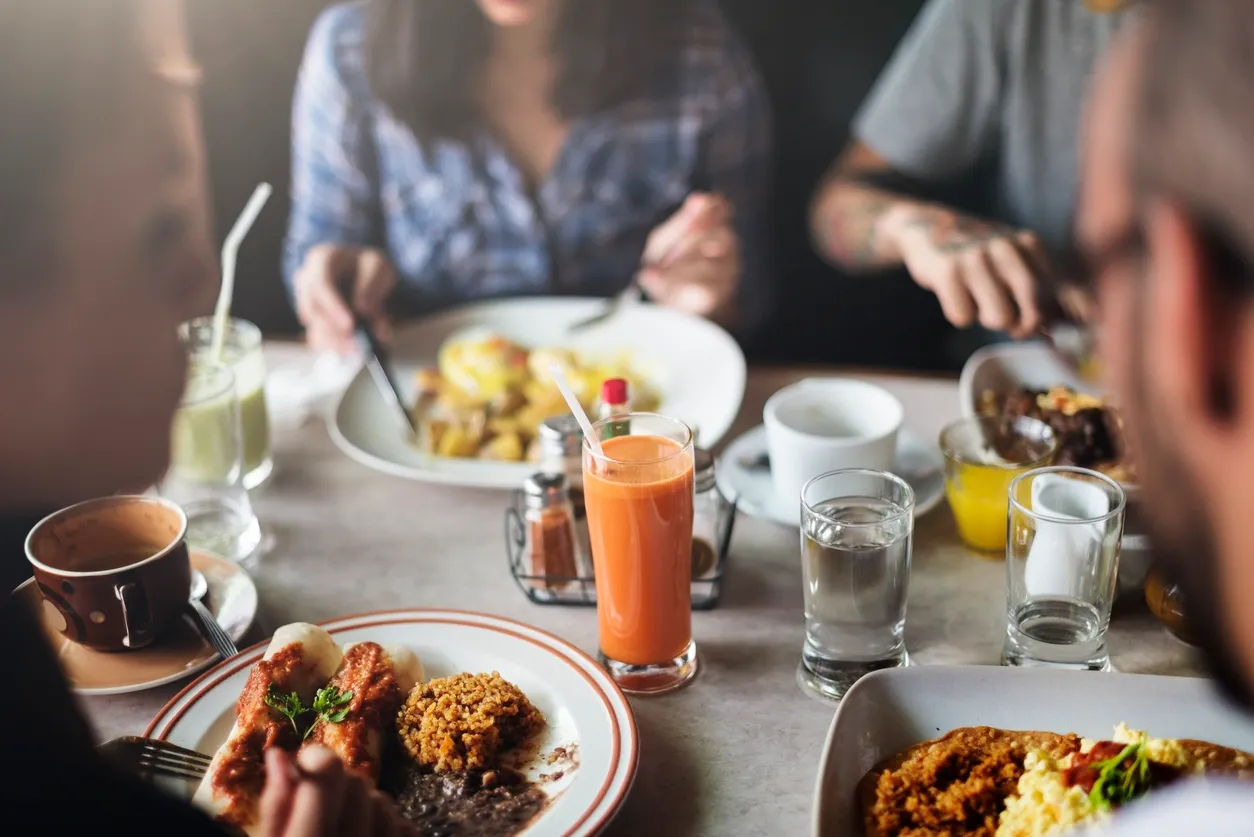 One special girlfriend, Brigitte, brought over the best vegan dinners all packaged ready for my fridge. She had lovingly cooked and prepared these meals herself and she also spoilt me with a huge bunch of colourful flowers just to keep my smile big and help me with my recovery.
This particular afternoon stands out because we chatted on my balcony, at the dining table, then in the lounge room and finally as I got sore from sitting up we just laid together on my bed laughing and talking about our bright and different futures ahead.
You wouldn't believe it but I even got back into my kitchen again, cooking my best vegan recipes and desserts. I didn't get to my open-air office by the sea but life was wonderful, what could possibly go wrong.
I am in big trouble and in my heart I know somethings gone seriously wrong I'm feeling paralysed from the waist down again like the major crisis I had on the 20th November, 2019.
My body has defied me yet again!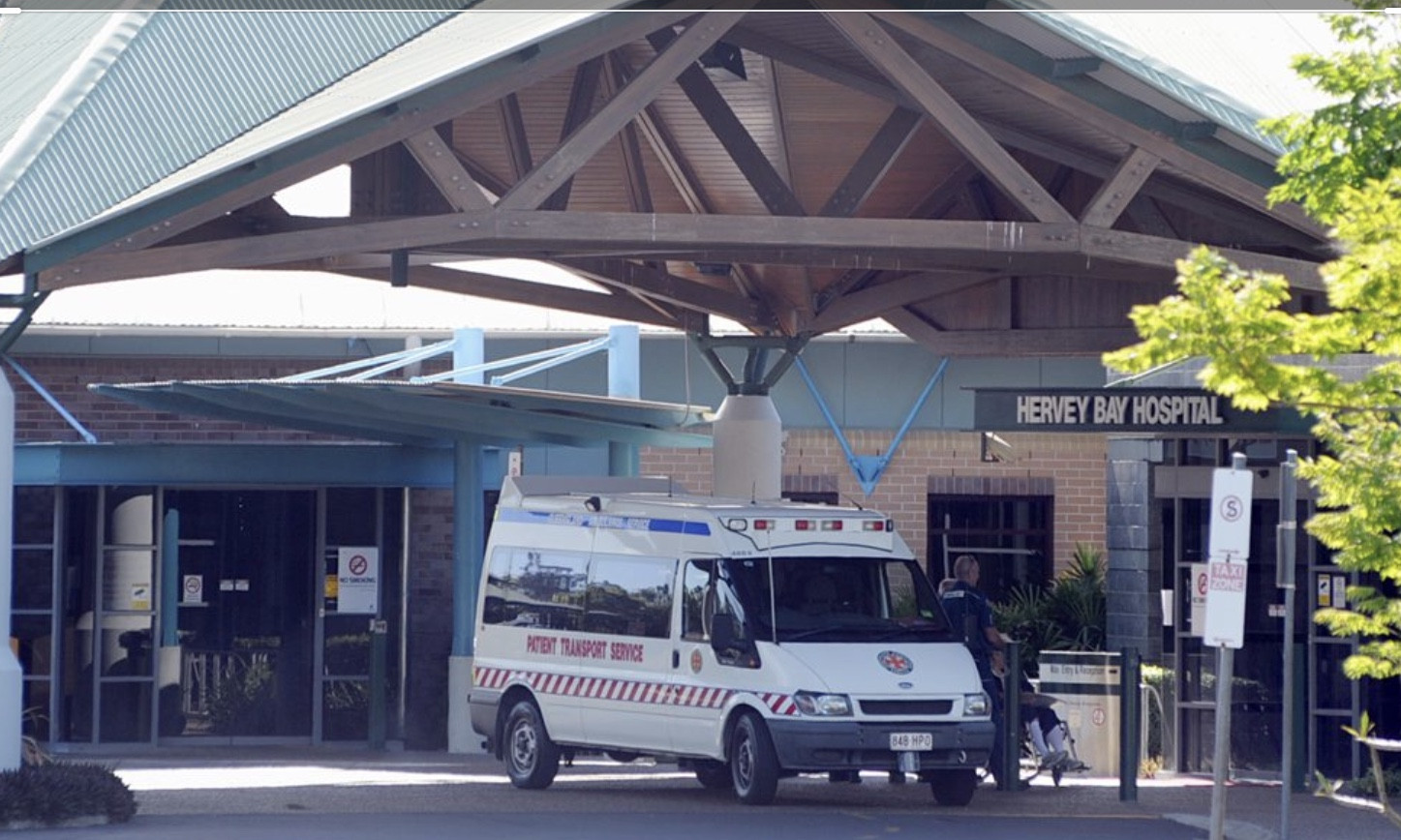 The ambulance has had to be called as once again as I can't get up and pain is increasing. Ironically, you wouldn't believe it, but the same two cheery, professionally capable Paramedics that had come to my rescue less than a month ago come to my aid once again.
So once more I was transported to Hervey Bay Hospital in a semiconscious state and in great pain. There is a problem in the area of my lower spine where the previous surgery was just showing signs of healing.
"I hate to say this but I'm back in hospital!" I sadly relay to my three grown children a short time later.
"I've been admitted to the CDU unit in Hervey Bay Hospital and will be taken to St Stevens Hospital tomorrow afternoon for an MRI", I finish telling them with tears in my eyes.
I've had to get a catheter back in. I had a litre of urine in my bladder and I wasn't aware. This sucks!
The pain is ridiculous again and I'm told to lay flat. Hey, I don't want to try and sit up anyway, but I tell my children "It's just another hiccup that will get solved soon!" but I won't know, until after the MRI tomorrow, what's happening to me. I also tell them "I love them and I'm not going backwards I promise!"
As I've said I'd only been home from hospital just a few days before this has happened and all I've wanted in that time, was to see the ocean. I know that the ocean is only across the road, but geez, it may as well be millions of miles away, when you feel like I do . It did sound wonderful this morning though.
It's possibly a slow bleed in the spinal cord I'm told. They're thinking of flying me to the Royal Brisbane and Women's Hospital Brisbane once again. They'd like to hold off until I have the MRI if possible.
Scared again, I drift off into a drug filled and dreamless sleep...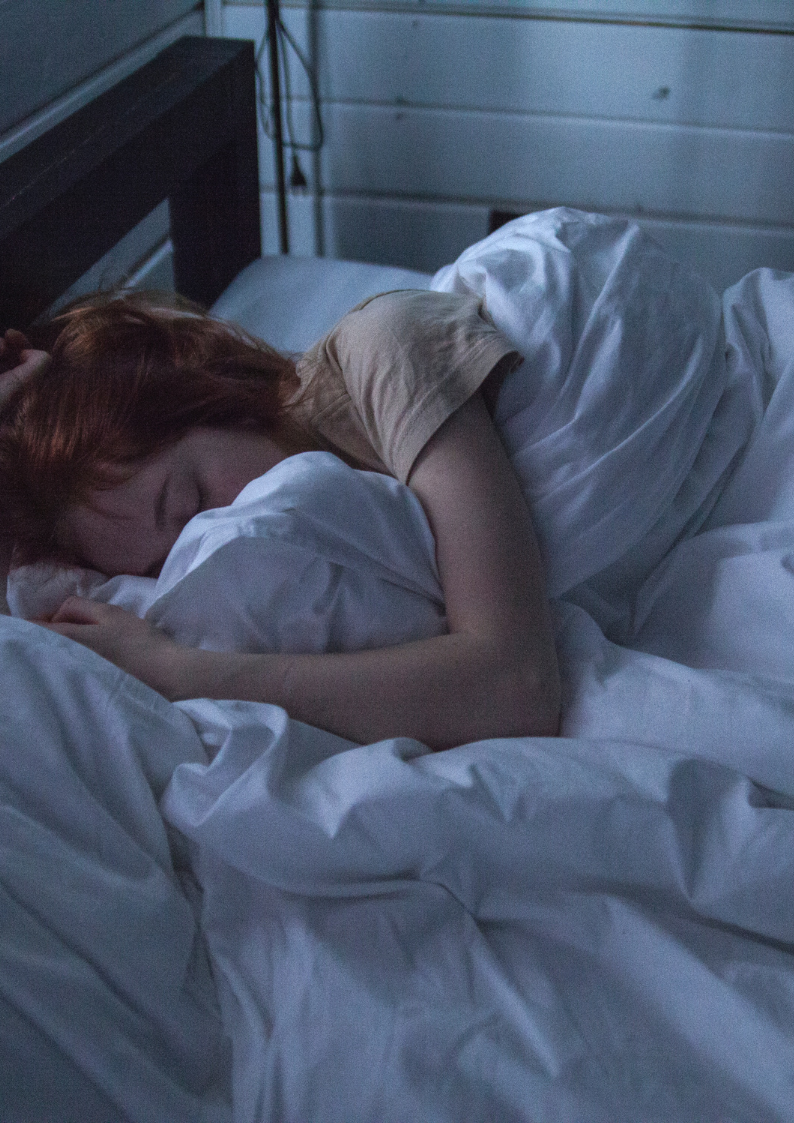 Well another day dawns and I've been stabile and certainly well looked after during the night thanks to the beautiful and caring Nurses. The afternoon arrives and an MRI is done once again …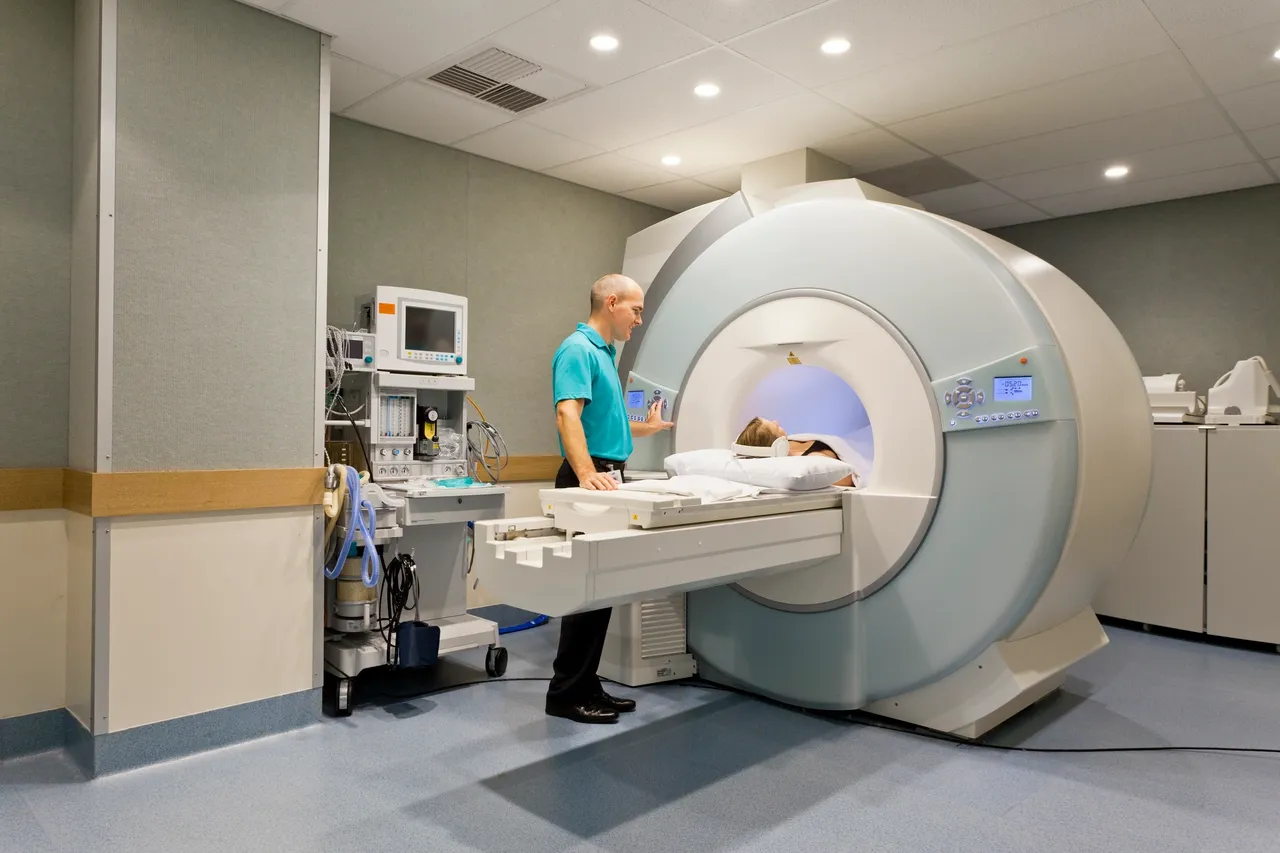 Results came in and I have a blood clot (haematoma) sitting on my spinal cord. I'm told to just rest up until the clot moves off my spinal cord. I have been advised to let the Nurses know straight away if any of the following occurs:
1. Pain increases too much.
2. Any sort of headache occurs.
4. Any more loss of feeling.
5. Bladder doesn't restart when we trial taking the catheter out in the morning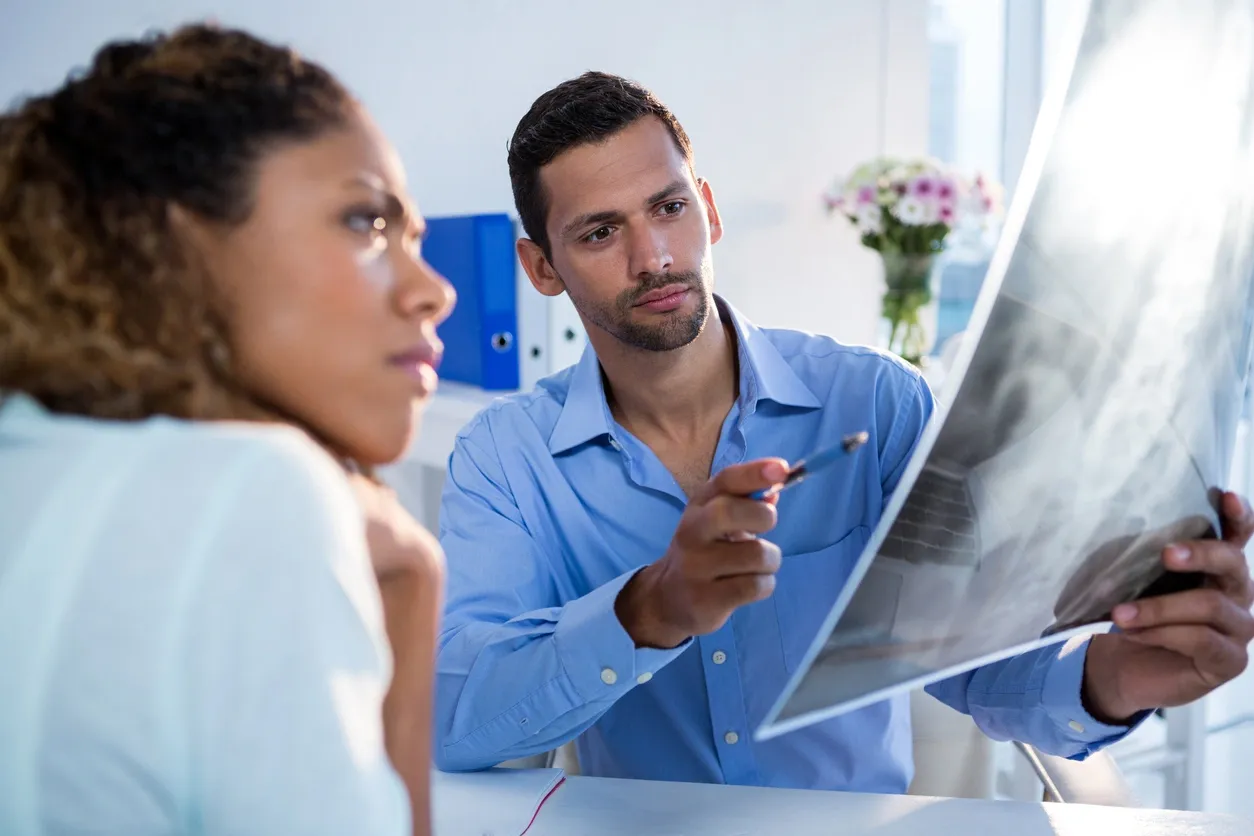 I'm admitted into the orthopaedic ward on the 4th December, 2019. The doctors are hopeful that if I rest up the blood clot will dissipate on its own.
My fingers are crossed...
Another day passes and not only is my bowel and bladder once again out of action but the Doctors feel there's a slow leak of spinal fluid going into my brain.
It's 3.30am on Thursday and I've had an Intensive Care Doctor and Nurse plus a Nurse from the Surgical Ward attend me. They're attaching me to machines. I'm now connected on my left side to a ketamine infusion. My right side is a fentanyl pump and drip. To top this all off I've also been placed on oxygen. I'm sort of guessing at this point I'm unwell!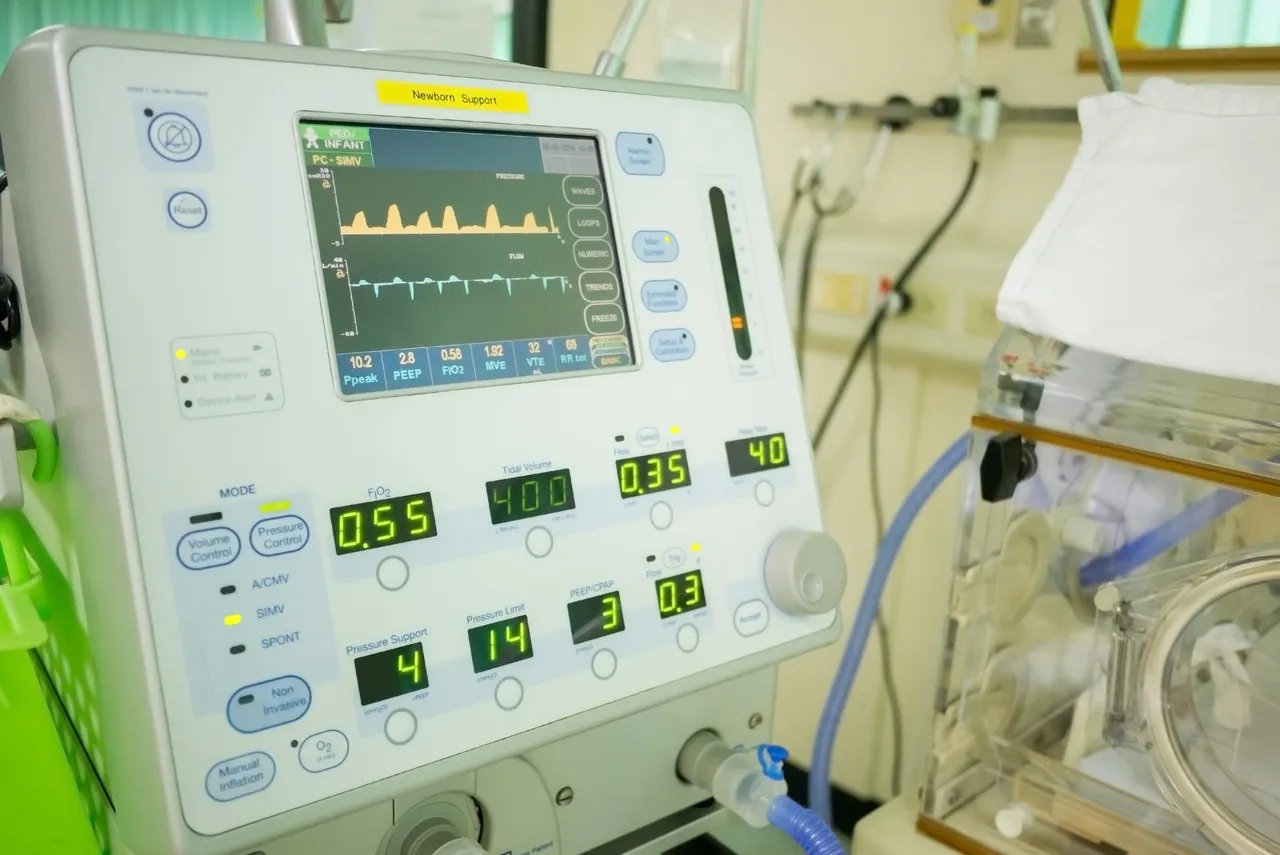 Until this blood clot decides that pressing on my spinal cord is not a good thing and dissipates this bed is now my temporary (very temporary!) home.
"I'm okay", I reassure myself and my children "I'll definitely quickly get back on my feet before you know it! I have a different mindset and different life now. It's too enjoyable to be out in the world and to be with you all" I finish telling them.
The Doctors predict about four days and I have a huge team of Specialists coming in and out all the time.
By the 10th December, 2019 I have another MRI and the blood clot is still on my spinal cord but has reduced in size.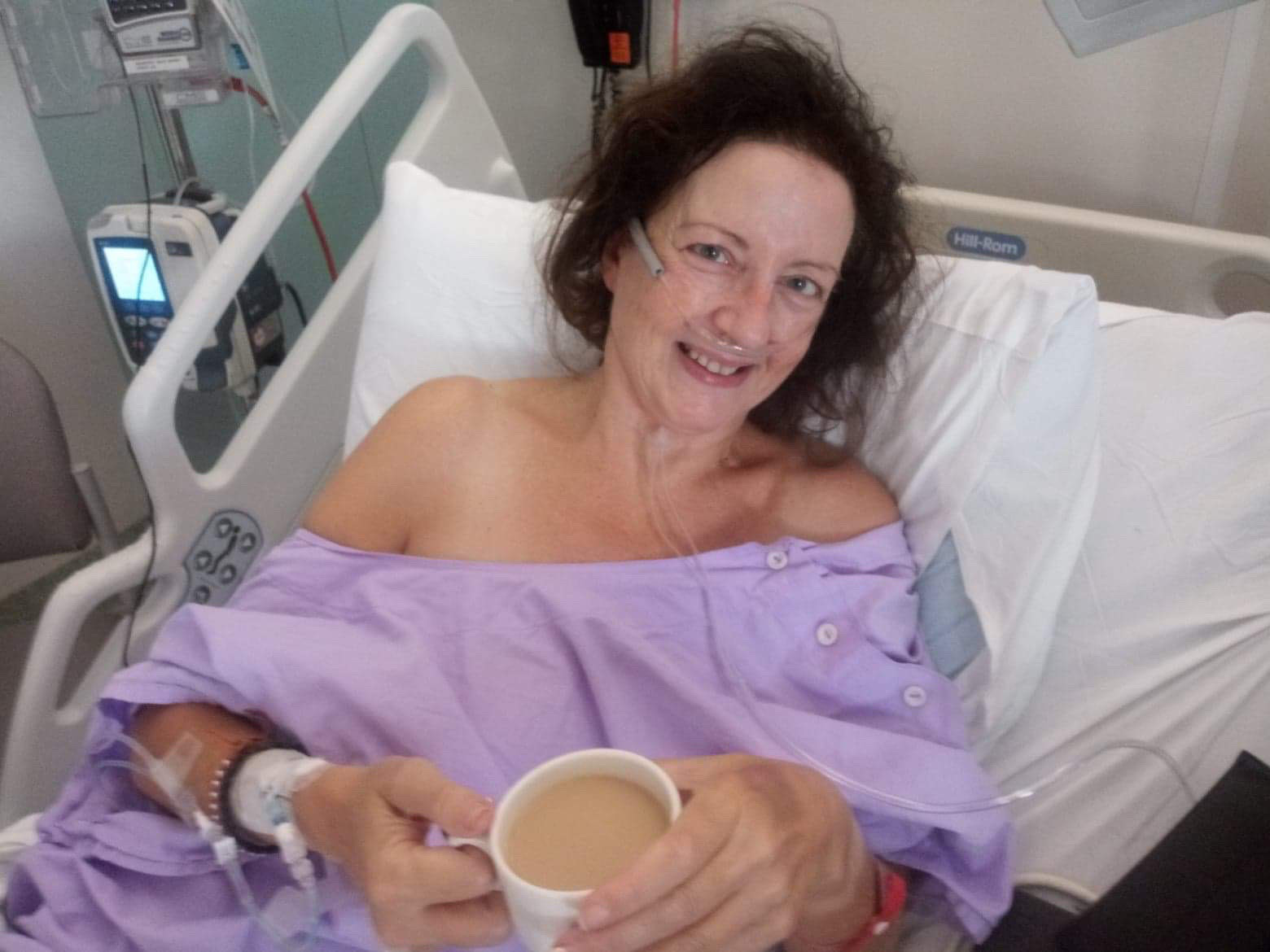 I'm trying hard to stay happy and on top of this situation.
It doesn't matter how much I try to stay positive because things change fast and go wrong...
Fluid starts building up in my spinal cord and it's affecting my brain, so as well as the back pain, I now feel as if my brain is being crushed in a vice. The pain gets indescribable and so bad that in my distress I didn't realise the Nurses Panic Button has had to be pushed and I have Doctors and Nurses all around me as they try and help me get under control.
I vaguely recall my Son is there...
Our wonderful team of Specialist Doctors here in Hervey Bay and my Brisbane Orthopaedic Specialists are in constant contact as things get worse.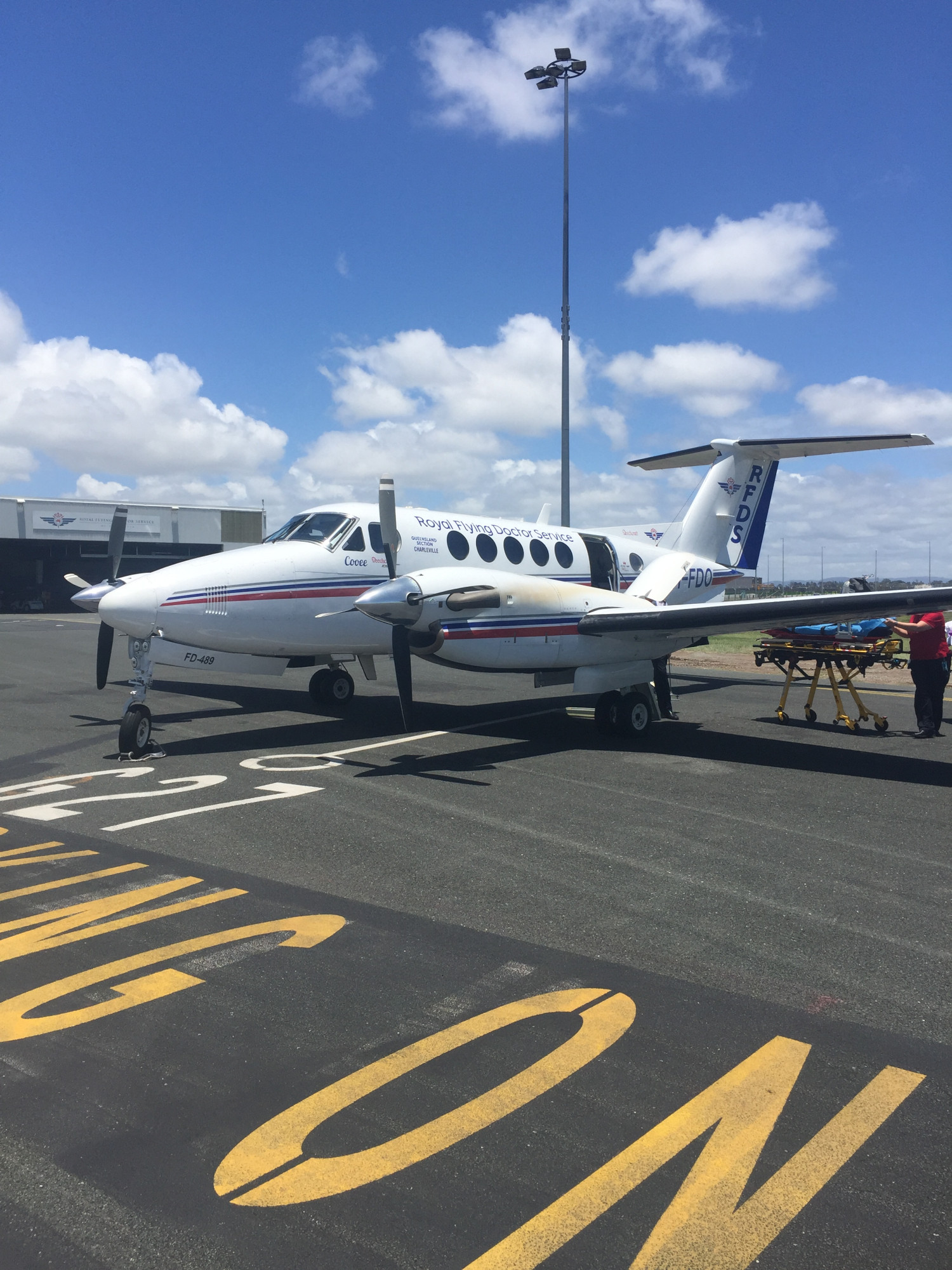 I'm terribly scared and I pray to God that he will be with me...
Next thing I knew it was happening again and I was being stretchered onto an air ambulance for the second time, and I'm heading back to the Royal Brisbane and Women's Hospital. Surely this can't be happening, I think to myself!
They're going to operate. They will get the clot out, reduce some spinal fluid and check for infection, I'm told.
As I'm wheeled into the hospital in Brisbane I'm mesmerised by the beautiful Christmas decorations.
It's wonderful. A kind Nurse gives me two pieces of tinsel and she then good heartedly hangs them up to decorate the horrible room I find myself in. The hospital is flat out and I've been put in a treatment room up on the ward because there's not enough beds. I should be feeling grateful that they've squeezed me in.
Be kinder Teresa at once...
To see a little snippet of what my room looks like press the "Take a Peak" button.
I'm having a CT scan of the brain tomorrow and blood test as well as another spinal operation can you believe it?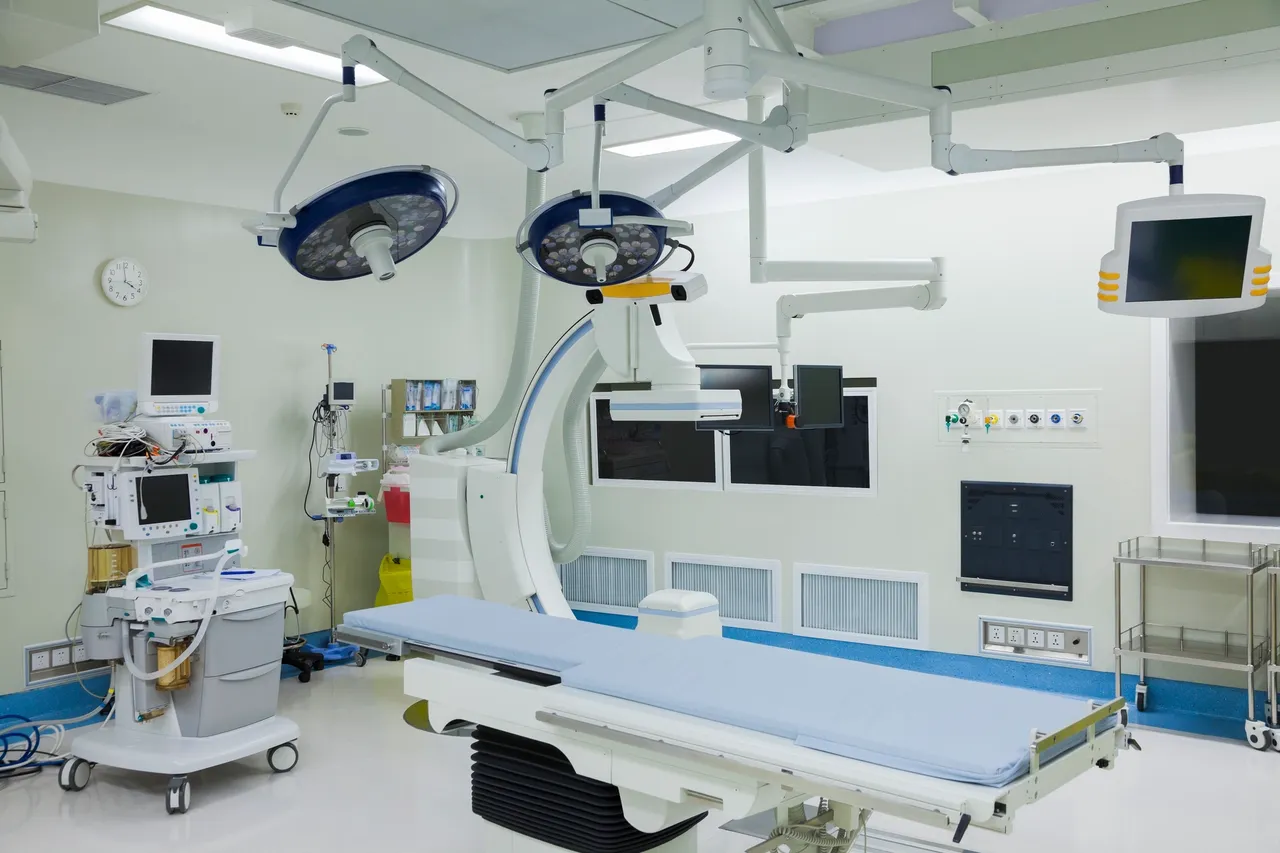 All I can tell my children though apart from those facts is as soon as I can walk yet again, I'm going to video these Christmas decorations and lights in the corridors.
The beautiful Nurses have gone to a lot of trouble and I know all of my grandchildren would love to see them as would many people.
I tell my children, "I'm thinking about all of you and I'll get my mojo back. My body is trying to let me down, but my mind is stronger!"
I don't know why but my hearing has gone in one ear and half the other since last night. Dizziness and a headache (like pressure) is atrocious. Hopefully the surgery will make everything better. The nurses have been assuring me this is so.
Lavender Essential Oil and Stress Away Essential Oil are on my body, and Argan Oil on my face, then teeth washed and I'm feeling more human thanks to the help of the same lovely Nurse who gave me the tinsel.
Stronger, more powerful and positive days ahead after I get declotified (do you like my new word?) tomorrow.
12th December, 2019 and I'm wheeled off to surgery...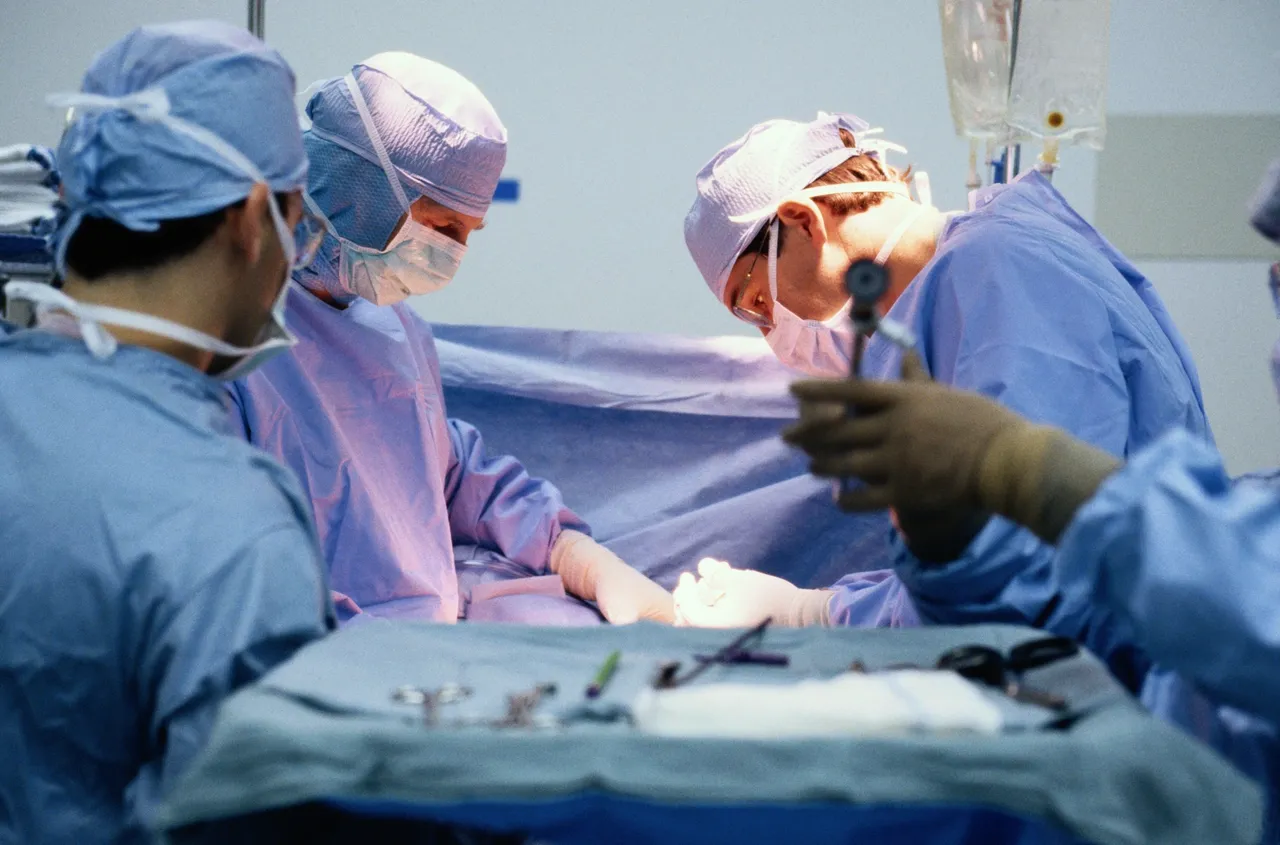 I wake up hours later and the surgery is over and blessedly the fluid pressure is eased and my brain was released from it's vice.
I still have a headache but it's manageable. But my back is still so sore I can't even sit up in bed. I'm expecting a lot of myself I suppose.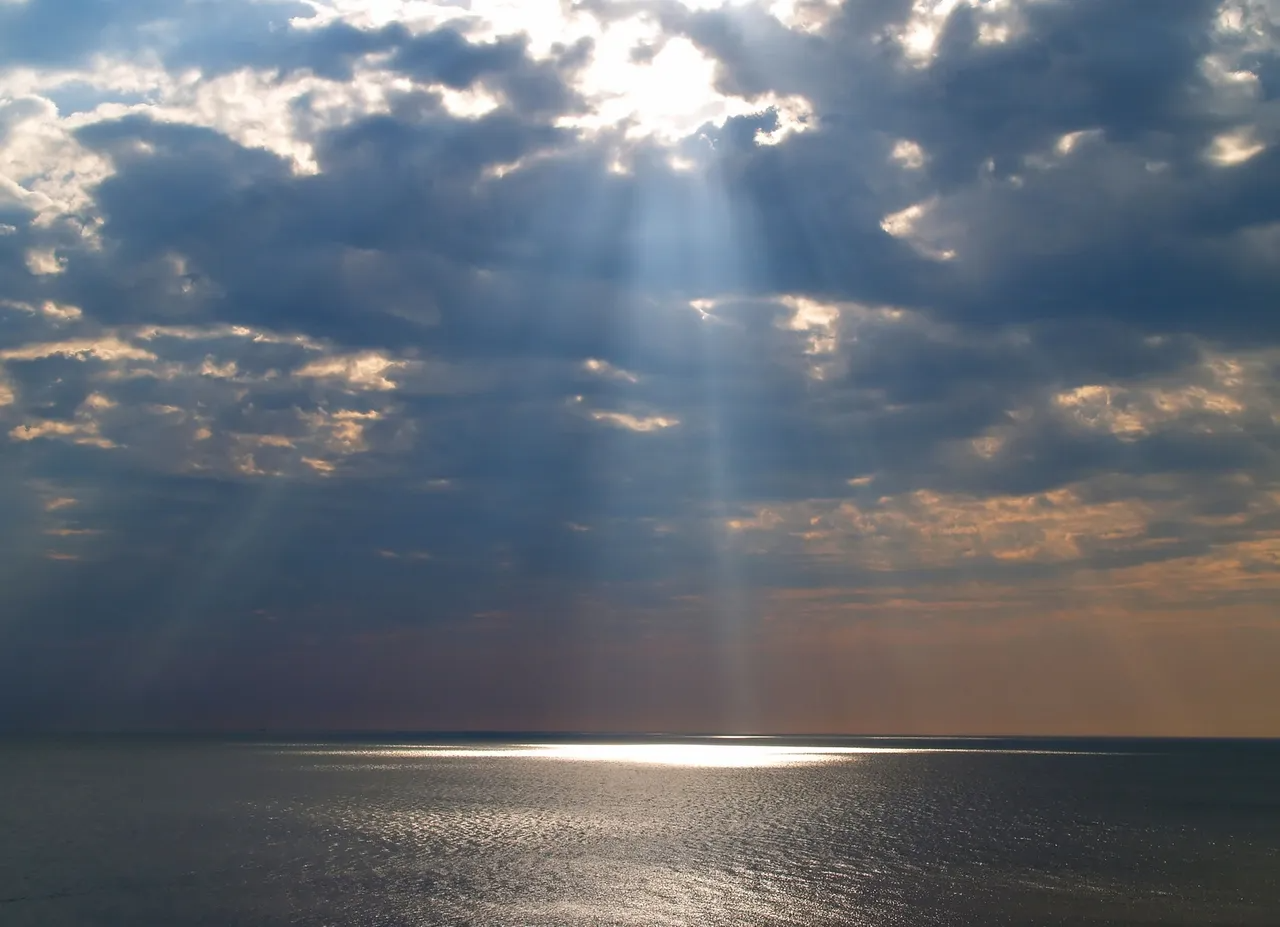 After a few days I feel I'm improving a little. I'm sometimes walking to the toilet or walking to have a shower.
But new symptoms appeared...
If I move my head I feel dizzy and disorientated, and my brain is having trouble interpreting my hearing. Sometimes my hearing is supersensitive and I can literally hear a pin drop but sometimes I am quite deaf.
Nobody can give me a conclusive diagnosis, so it was decided that I would have a full spinal and cranial MRI.
By this stage though I am able to walk, and I walk from my bed trolley to the MRI machine. The MRI lasts for three hours. I am laying on the hard steel bed on my recent back surgery. I have to press the distress button twice during the three hour ordeal. The first time I press it and they let me out for a minute. I sit up briefly and stretch but the second time I wasn't so lucky and was told it's only a few more minutes. When it was over, I am a mess. I can't move at all and have no chance of being able to walk or even sit up; my back pain is back to where it was when I entered hospital many days ago.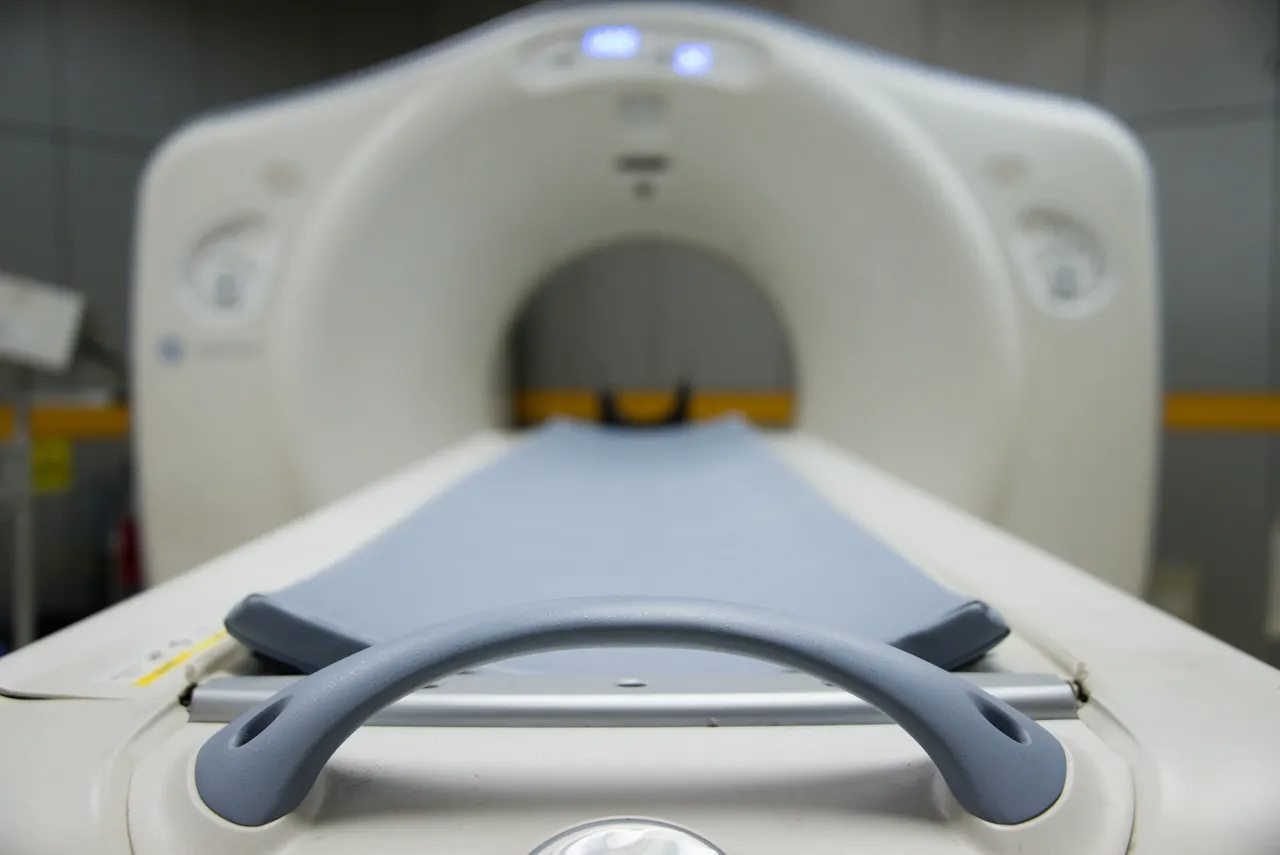 Five days pass before I get the report and when it comes it's inconclusive. Well that obviously means nothing is really wrong. Well that's a good thing I take it as an early Christmas present.
Except that wait a minute I'm still in a lot of pain...
So the Doctors decide to tackle one of my problems at a time and I'm scheduled to have a test at the Audio Clinic to see what is going wrong with my hearing and making my dizziness. The Nurses tell me I'll get a wheelchair ride up to the Clinic, this doesn't give me a pleasant feeling. Hey, I haven't even sat up in bed since the MRI.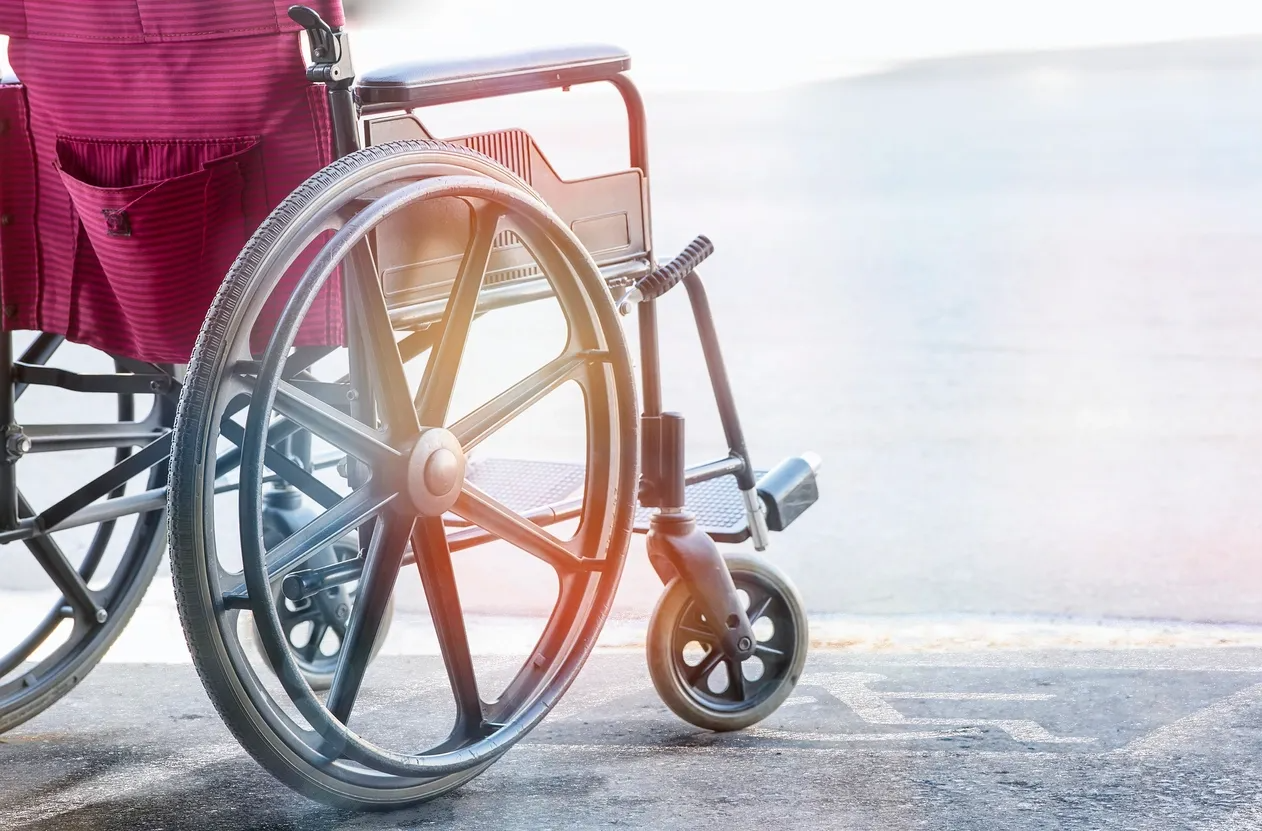 So, here's how it plays out...
Up to the clinic I go gingerly in the wheelchair, but I don't wait for 5 minutes when I see the packed waiting room before I ask, "How long before my test?"
"Oh it will be a twenty minute wait" says the receptionist.
"How long will the test take", I ask politely.
"Oh about an hour", comes the reply.
"There is no way I can sit for that long, I need to get back to my ward", I say as I get dizzier.
"Well we will take you in right away, but it won't be a full test" says the receptionist.
Forty minutes later, I have been tested but I am really in strife as my pain has escalated and I'm super dizzy now but the orderly hasn't arrived to take me back to my ward and to bed.
"Why are we waiting?" I ask politely, "My friend can take me back down to my bed".
"No, it is hospital policy you have to wait for an orderly", interrupts the receptionist.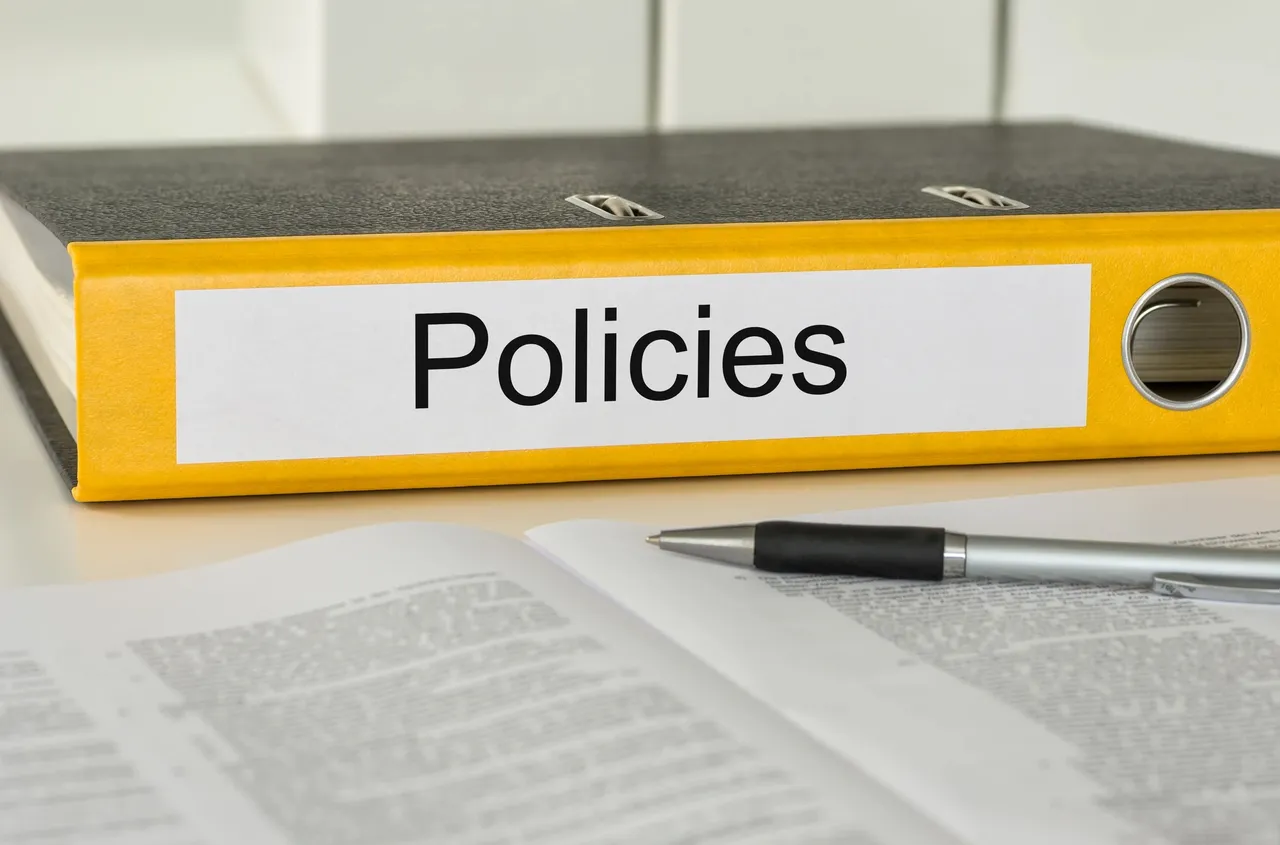 So to my friend I exclaim, "I can't take this anymore, I have to get out of this wheelchair, and I'll just lie down on the floor" I honestly thought I had no choice as I was going to pass out.
My friend spotted a man waiting for the staff lift across the corridor, and he ran across and asked him if we could go down in the lift with him and he said sure he'd hold the lift.
So my friend kidnapped me by wheeling me across to the lift at speed with a receptionist in hot pursuit. She could only accompany us back down in the lift, and to my ward scolding us all the way.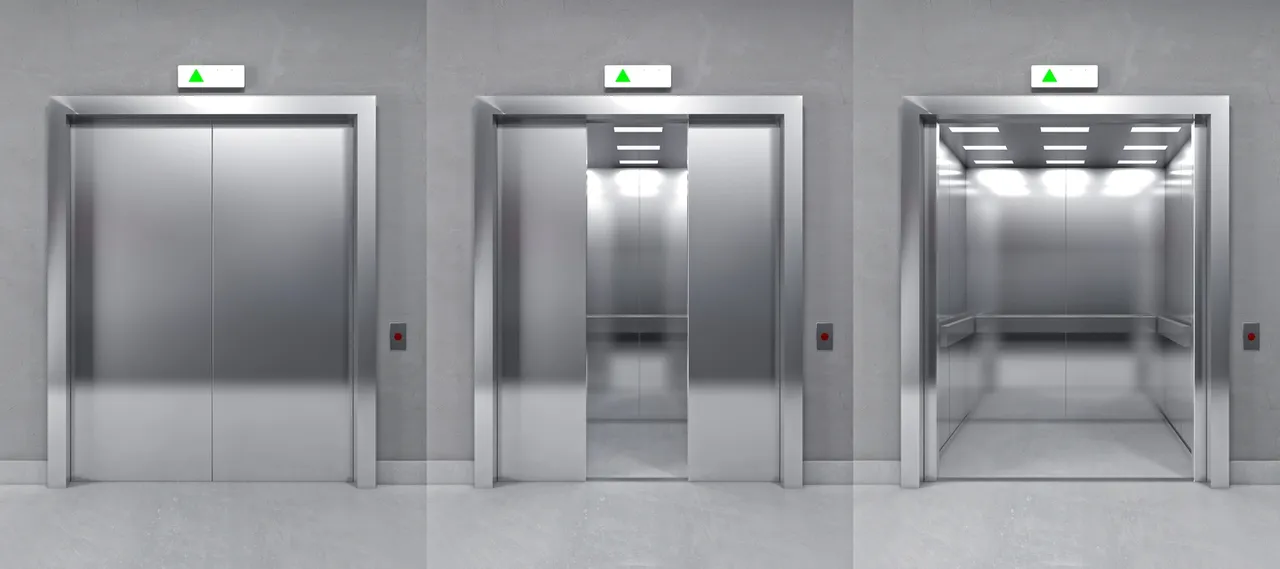 "Now you wait here while I get a nurse to get you into bed as you might fall", she told me as she went in search of my nurse as we got back to my room.
Naughty and desperate me fell out of that wheelchair and back into bed before you'd be able to say "Santa Claus" and what blessed relief that was.
I waited for a report from the Audio clinic but it never came, and I never heard what the outcome of that test was, lol
Now all my life I've always be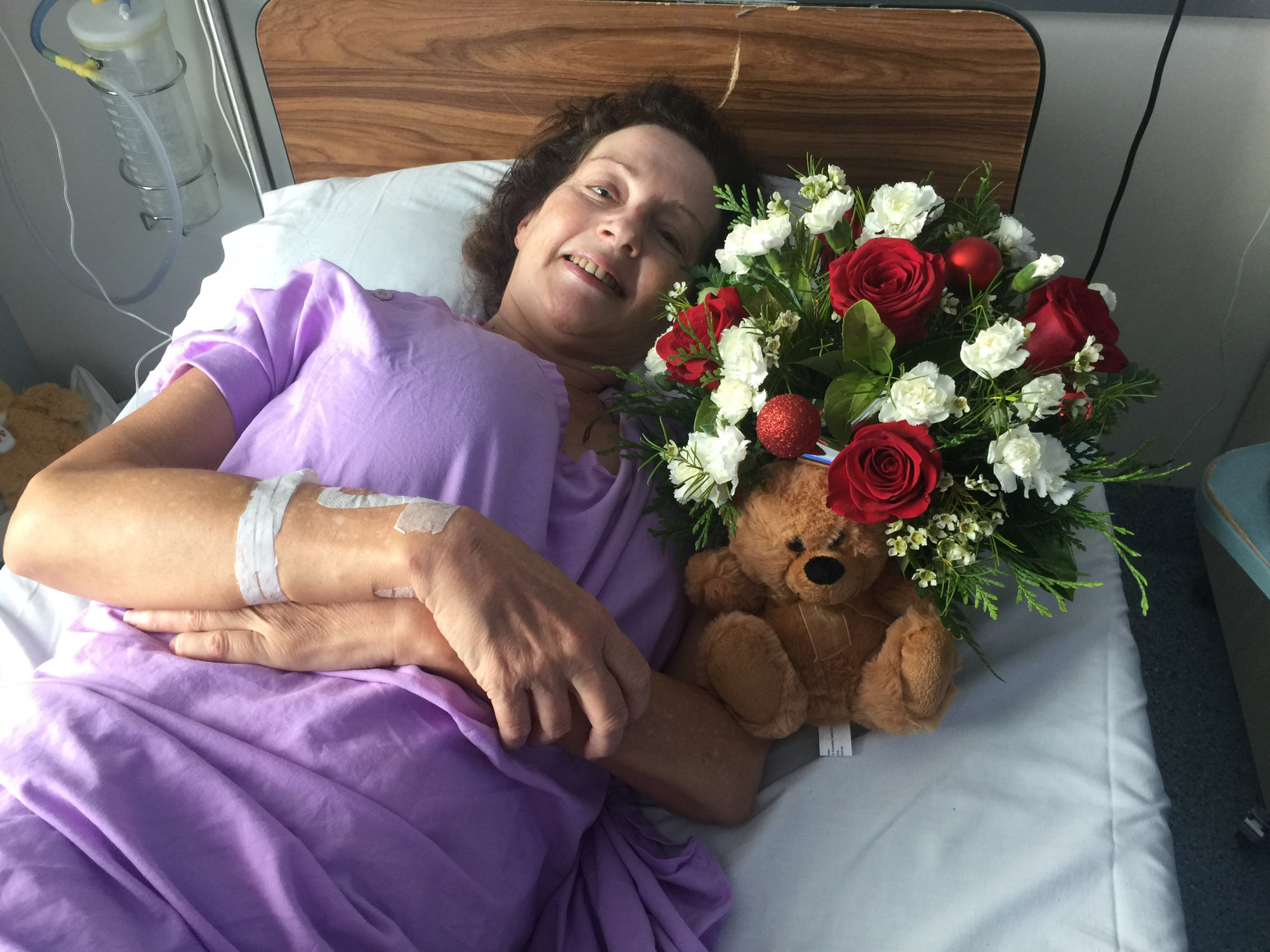 en a huge Christmas lover. I'm a big kid at heart. I love my Christmas time, I love the bright decorations, the food, the joy of family and friends, the parties and music, but here I was in a hospital bed far from home. I sadly say I've spent a lot of time in hospitals throughout my life but this was going to be the first Christmas ever in hospital.
I'm trying hard to make the most of it even though l am feeling daunted, I managed to find a Santa decoration here and reindeer decoration there and staff and friends bought me small gifts in bright Christmassy bags.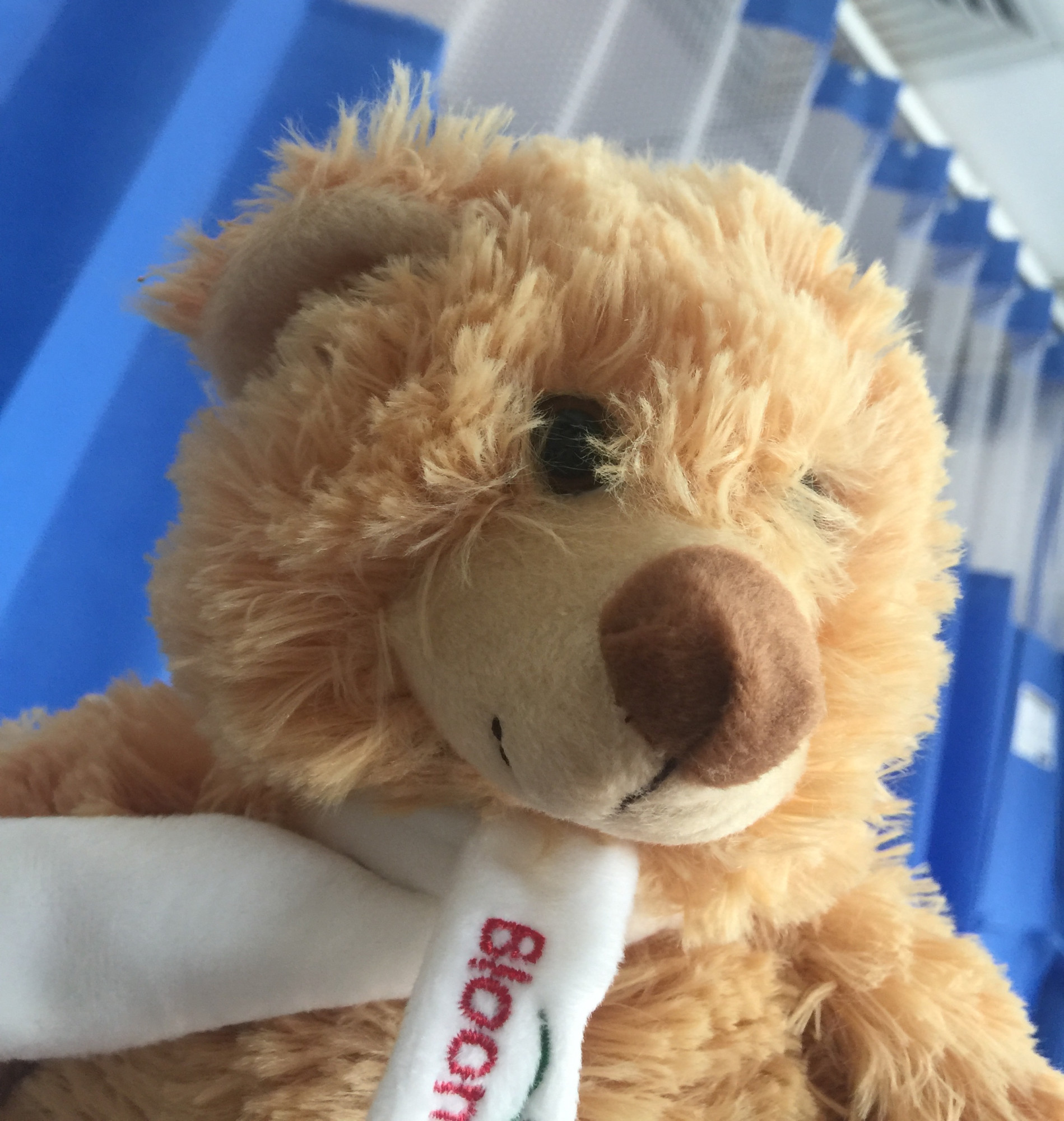 My dear friends, the Butterfly Sisters sent me a beautiful arrangement of flowers in a serving bowl with the cutest Teddy attached.
My beautiful Sister who still lives in Sydney sent me some very pretty flowers in a vase that I could keep which was lovely and a cute teddy bear with no ears (his ears had been squashed back in the box he'd arrived in and never recovered, my sister and I laughed a lot about this special bear that will always remain dear to my heart)!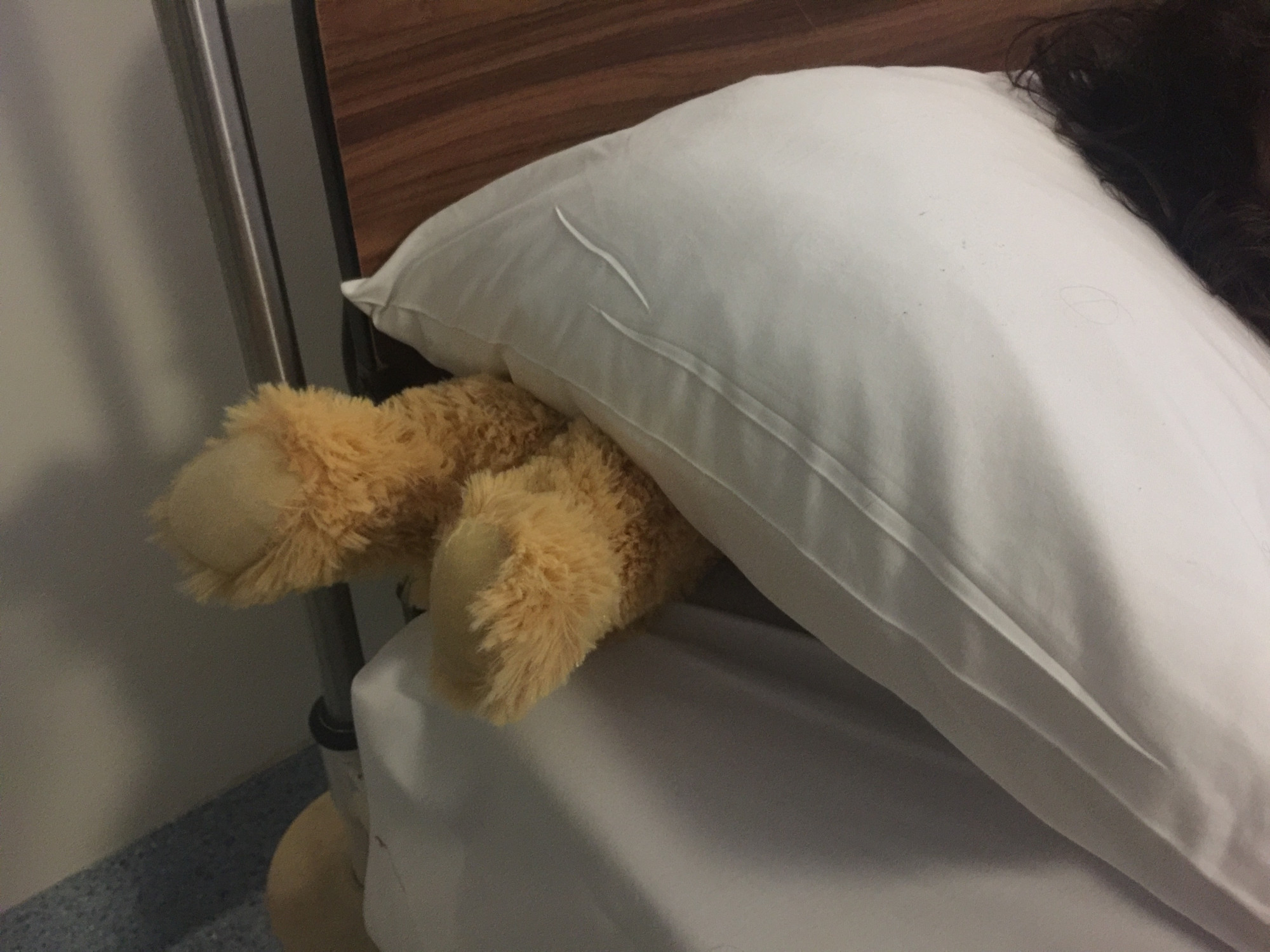 The friend who came down from Hervey Bay to be with me said we would have a Christmas picnic in the ward and that is what we tried to do.
Except that half way through our picnic Christmas dinner before I'd finished my meal, it was decided to move me to another ward upstairs. Not to worry it just meant we got to eat the miniature plum puddings and custard the next day as I was over Christmas by that stage. What a shame, we never did get to pull our Christmas crackers and wear our silly hats.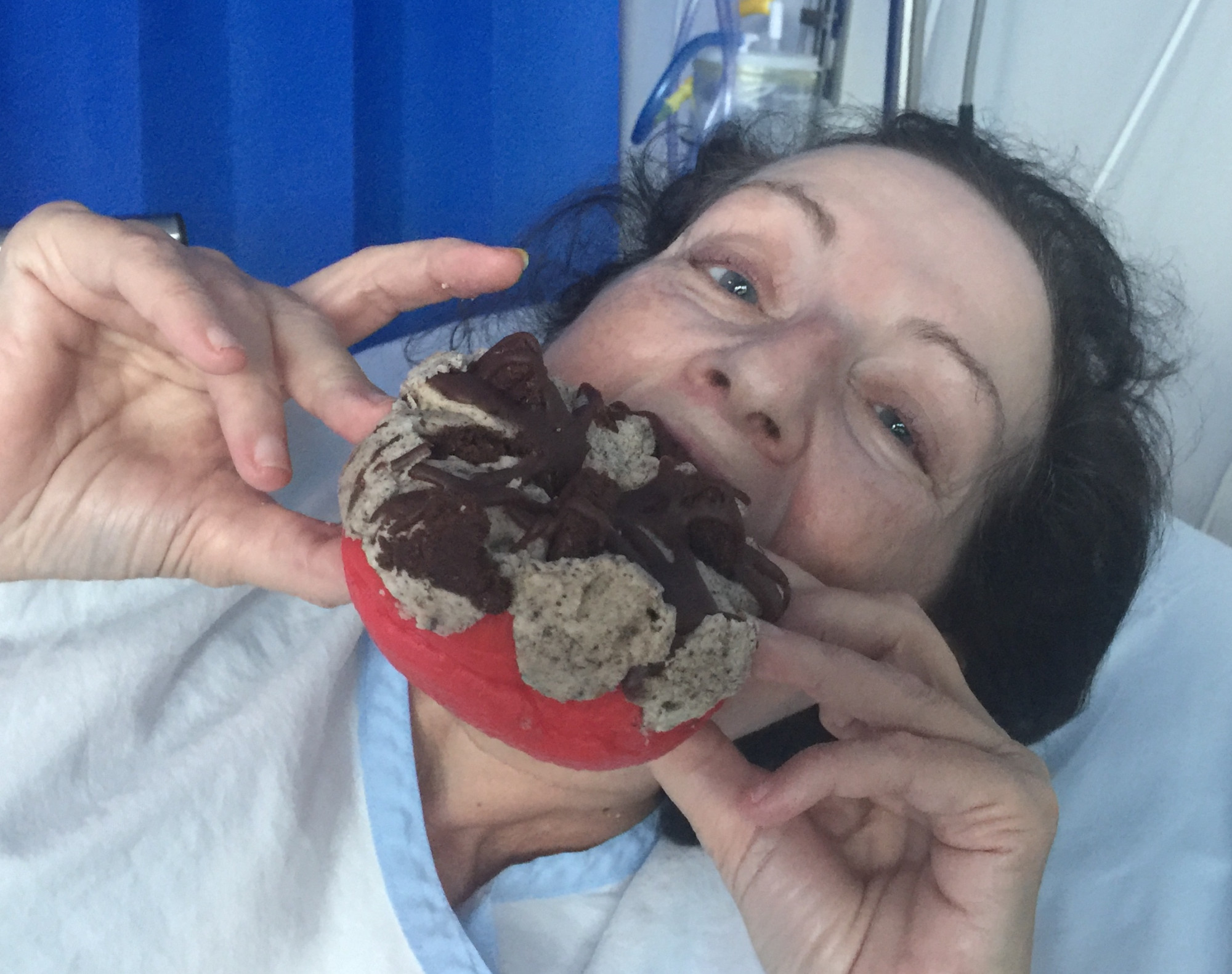 My birthday came next and I felt extremely loved when my daughter, her husband and four of my gorgeous grandchildren came to visit with presents galore and a huge doughnut birthday cake complete with candles. Oh geez did I feel special and very loved.
New Year passed and still my pain persisted...
I was referred to the pain management team and they tried to help but nothing changed. The Orthopaedic team were ready to give up. They wanted me discharged back to my home. By car. When I couldn't even sit up in bed.
I asked to be transferred b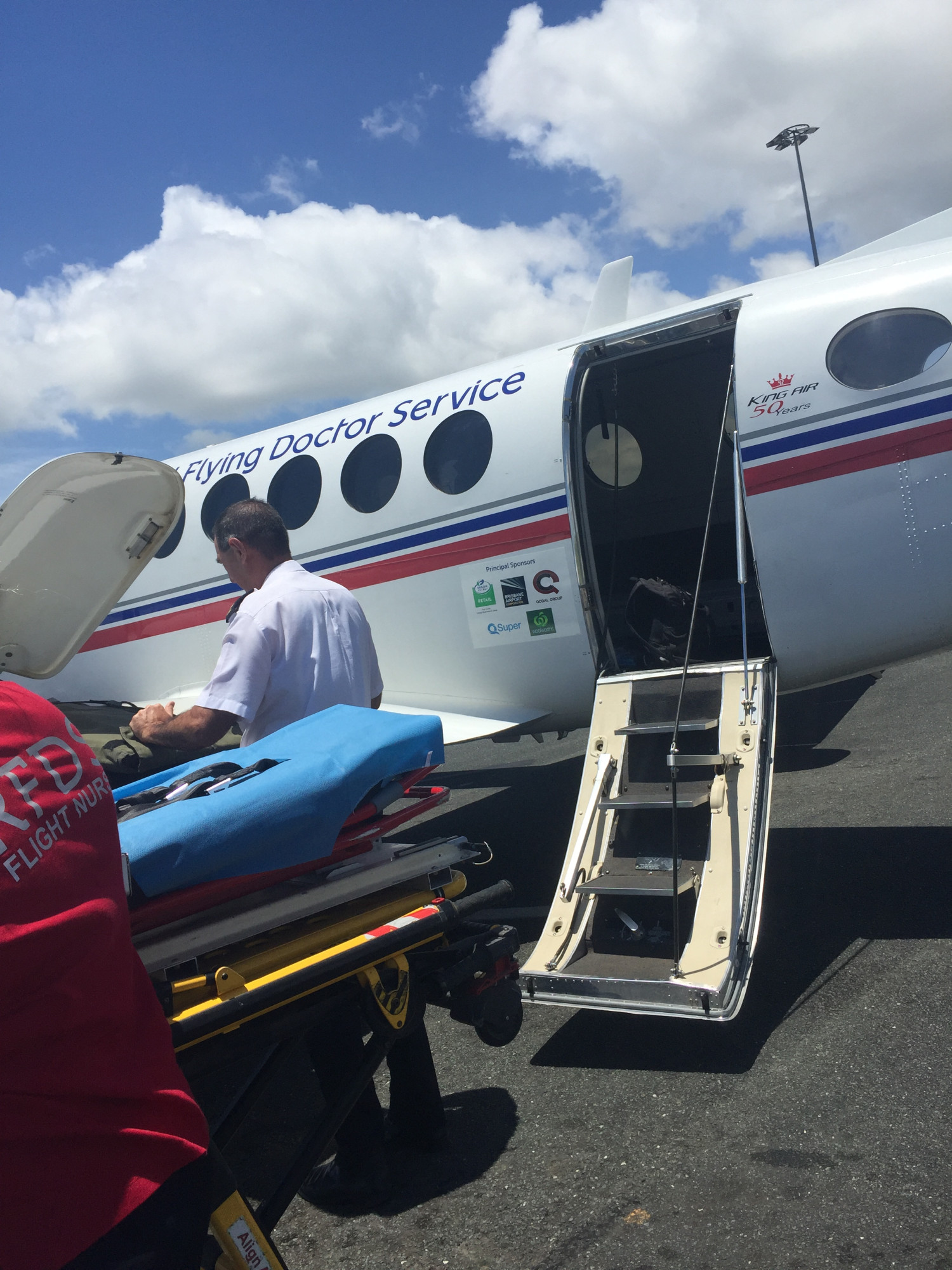 ack to Hervey Bay Hospital so I at least could travel the many kilometres with The Flying Doctor Service again but I was told that Hervey Bay wouldn't accept my transfer. They explained I would have to go home in a car or on the train and be readmitted as soon as I got back to Hervey Bay. There was a rather heated argument about this as I know my body and I knew I certainly wasn't up for the trip. But to cut a long story short after a successful submission to Executive Administration it was found that Hervey Bay Hospital would accept me and an air transfer would be done after a short wait and was I happy.
It was fantastic to get back up in the air with The Flying Doctor Service as I was so so excited about getting back to Hervey Bay.
In the air seeing the sight of Home brought tears to my eyes. I'd made it a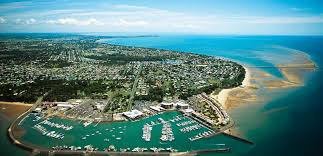 nd I couldn't thank God enough along with those I know are looking down on me from heaven.
Back on the ground in Hervey Bay it felt so good to be on home turf and my smile was big amongst some tears of joy that did find their way down my face. I thanked the Pilot and Nurse of the Royal Flying Doctor Service Queensland profusely.
There were two extremely nice Paramedics waiting for me at the airport. I told them that I'd been away from Hervey Bay for Christmas, my birthday and New Year's. I also told them how good it was to be home and how I'd missed the ocean. They were so lovely and drove me down the Esplanade so I could see the ocean but I couldn't sit up high enough to see out of the window.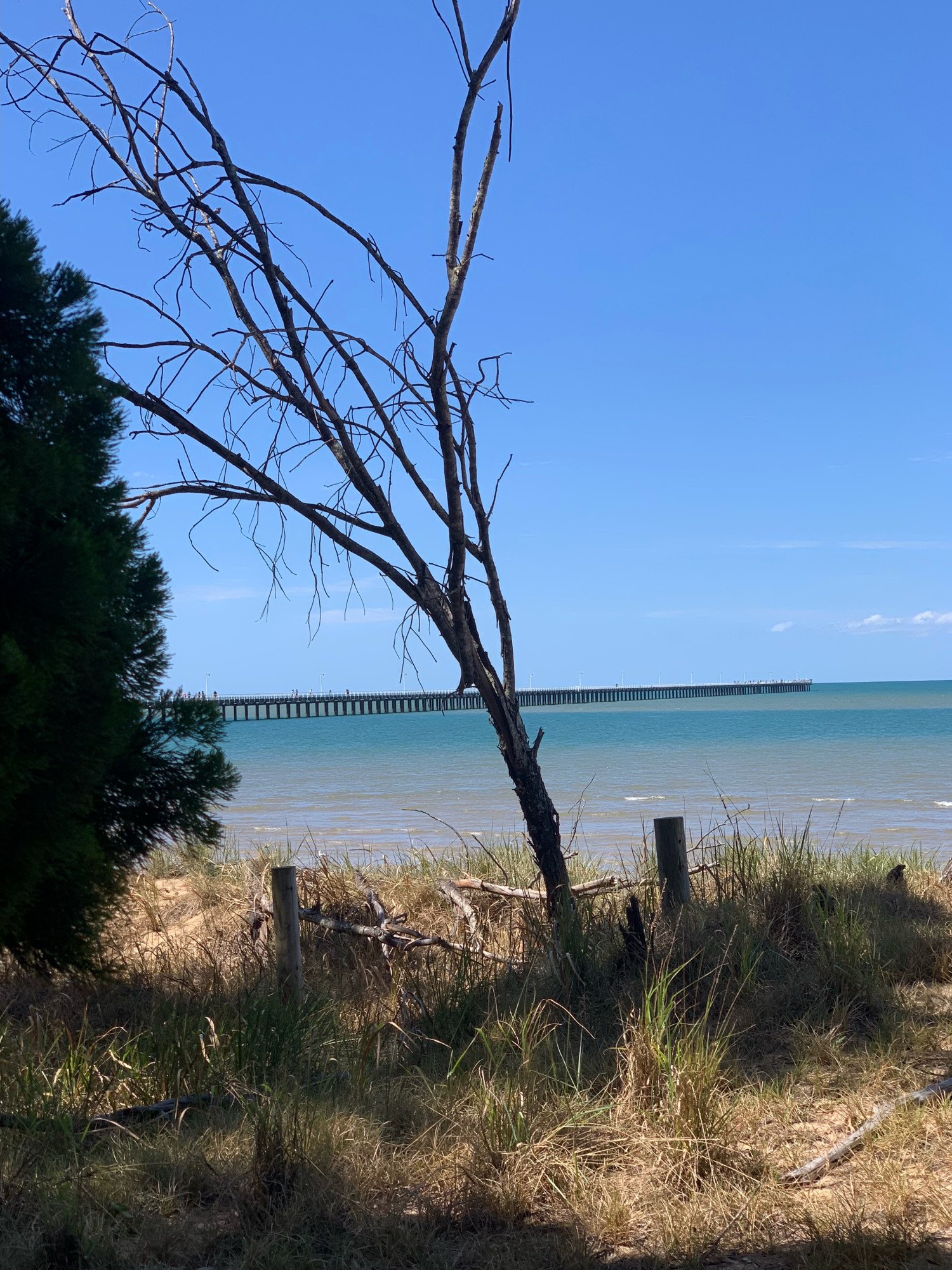 They easily fixed this problem and gave me the most wonderful gift they could've given me. They backed the Ambulance down a boat ramp, opened the doors at the back and stood outside and chatted for awhile while I saw the glistening ocean that I love so much, listened to the sound of the gentle waves and breathed in deeply of the fresh salty air.
It was the grandest gesture from these two INCREDIBLY CARING PARAMEDICS and I will never forget this. It was a POWERFUL MOMENT of HEALING too.
I was HOME!!!!
I was only in Hervey Bay Hospital a few days before I was well enough to be taken home and be looked after by support Workers...
Back to my own space, my own bed where I could play my music, feel the fresh air, hear the ocean, and hear my song birds waking me in the morning. My healing place where I knew I would soon be off those pharmaceutical pain medications once again, and be back walking with my Butterfly Sisters on the beach at sunrise, listening to the live music of my friends, dining with family and friends, and above all else spending time with my grandchildren once again.
But of course this is all due to the Queensland Ambulance Service, The Royal Flying Doctor Service, the awesomely talented Doctors, Specialists, the caring Nurses and all the Hospital Staff at both hospitals that took such good care of me.
Look out world, Teresa is back (although still healing again)!!!!
*** But of course this is Teresa we are talking about, and there is more. Fate has a warped sense of humour and was to have yet another giggle at my expense...