Sep 3, 2023 02:47 AM Central
Teresa Wagstaff
September ER Gift with Purchase
Spring is a time for new beginnings, growth and deep cleaning!
Embrace the season of renewal and unleash the power of spring with our irresistible collection of green cleaning favourites and invigorating spring oils!
Get ready to breathe in the fresh, sweet scents that will transport you to warmer days and infuse your home with a burst of vibrant energy. From crafting delightful diffuser blends to taking your cleaning routine to new heights, these goodies will make your space shine and leave you feeling uplifted.
Give your home a fresh start and let the magic of spring awaken your senses!
How to get your free gifts with your purchase?
REACH ANY OF THE FOLLOWING PV MINIMUMS WITH YOUR SEPTEMBER ESSENTIAL REWARDS ORDER AND EARN THESE GREAT FREE PRODUCTS.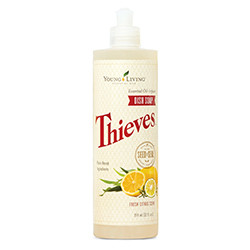 WHOLESALE VALUE FOR 145 PV TIER: $25.50 AUD

Thieves Dish Soap

: With low-tox ingredients, Thieves Dish Soap effectively cleans your dishes without harsh chemicals, dyes or synthetic perfumes. Featuring Clove, Lemon, Cinnamon Bark, Eucalyptus Radiata and Rosemary essential oils, Thieves Dish Soap leaves no harsh chemical residues. This gentle but powerful formula prevents over-drying of skin and will leave your dishes sparkling clean.



WHSL VALUE FOR 190 PV TIER: $63.15 AUD
Orange Essential Oil 15 ml
: Cold-pressed from the rinds of oranges, Orange essential oil has a bright, uplifting aroma that cleanses and refreshes the air when diffused. Like sunshine in a bottle, its cheerful, citrusy aroma brightens any room and leaves your home smelling fresh and clean. Try combining 10 drops with distilled water in a small glass spray bottle and spray over linens to freshen your sheets, towels and clothes.
Lemongrass Essential Oil 15 ml
: With a subtle citrus-herb scent, Lemongrass essential oil offers a sophisticated aroma that will transform your home into a relaxing oasis. A favourite for all things cleaning – try adding 4 drops in a sink full of dishes, a load of laundry or your all-purpose cleaner formula for an exotic, clean-smelling boost.
WHSL VALUE FOR 250 PV TIER: $130.90 AUD

Lushious Lemon Essential Oil 15 ml

: Brighten your day with the help of Lushious Lemon

essential oil. This sweet blend neutralises unwanted odours with citrus notes of Lemon Myrtle and Lemon, the floral scent of Ylang Ylang and the invigorating aromas of Spearmint and Eucalyptus Globulus. Try diffusing it in your kitchen to help cleanse the air of cooking odours and fill your space with cheer.



WHOLESALE VALUE FOR 320 PV TIER: $235.00 AUD

YL Branded Canvas Bag

: Reduce plastic waste with our practical and stylish canvas bag! Perfect for grocery trips or picnics, this reusable bag includes 2 bottle holders to keep your NingXia or other drinks secure.

Material: Canvas

Size: 30x40x10cm

Details: Includes 2 bottle holders

Thieves Laundry Soap

: With a formula that effectively and gently cleans clothing, Thieves Laundry Soap is made up of plant-based ingredients and leaves no chemical or synthetic residue. Not only does it clean well but a little goes a long way! Thieves Laundry Soap works in all types of washers and it can be used for up to 64 loads of laundry.

Lushious Lemon Hand Lotion

: Hydrate and soften hands with the invigorating, citrus aroma of Lushious Lemon Hand Lotion. This naturally derived, antioxidant-rich lotion will be a staple in your household, specifically formulated to soften and smooth dry skin.



Ready to take your essential oil journey to the next level but feeling a bit unsure about where to start?
No worries, I've got your back!
Whether you have questions about using essential oils, need personalised recommendations, or just want to chat about all things Young Living, I'm here to help.
Don't let any doubts or confusion hold you back from experiencing the amazing benefits of Young Living essential oils. Drop me a message or reach out to me through my website contact page 👇🏽
and together, we'll demystify the world of essential oils and set you on the path to wellness and abundance!
Remember, the key is taking that first step. So, get in touch with me and let's unlock the full potential of your essential oil journey together!